(Reprinted by kind permission of Bob Radley)
With the election of a National government in 1949, and the diminution of the government's role in marketing, the government approved the foundation of a fruit importing company exclusive to the NZ fruit merchants.
Bert Radley was a very active National Party supporter and an officer in the South Island Organisation. He was personally friendly with Keith Holyoake and along with other industry stalwarts especially Harvey Turner of Turners and Growers advocated a merchant based fruit importing company to replace the really faulty IMD regime.
With the support of Keith Holyoake as Prime Minister, Fruit Distributors Limited, was established through the Minister of Agriculture in 1950. A national organisation of wholesale merchants with a government representative Director became the major importer of fruit into New Zealand for 40 years. With the majority industry role of Turners and Growers, Auckland's dominating Harvey Turned remained its chairman from 1951 to 1979. Bert Radley managed a period of second best as deputy chairman.
Fruit Distributers was set up as a company and shares were allotted amongst New Zealand's bone fide fruit and vegetable merchants. A number of peripheral businesses for years resented being kept out of the exclusive cartel.
FDL was Wellington based and for many years its General Manger was Ross Walker. He was eventually succeeded by his capable younger assistant Michael Dosser. (Michael later graduated to General Manager of Fruit Distributors and more recently after FDL was assimilated by Turners and Growers became Chairman of  Turners itself when it was a  listed public company.)

Fruit Distributors Logo and Letterhead – 1964
This company with its combining of imports for all New Zealand fruit merchants was able to buy in volumes which yielded many benefits, especially in terms negotiating power and volume logistics. Shipments were able to secure the chartering of specialised refrigerated shipping.
Initially the Pacific Island were the major suppliers of bananas and Australia and USA of oranges. The Islands trade saw many years service from the combined cargo and passenger Union Steamship company vessels Matua and Tofua. Non passenger vessel Taveuni was also used.
From further afield especially when the company started bringing bananas from Ecuador several  Danish Lauritzen Line ships were used. These bright red hulled and white superstructure ships had "Reefer" names such as Egyptian Reefer, Argentinian Reefer etc.  Fruit Distributors had a long and successful association with this shipping line.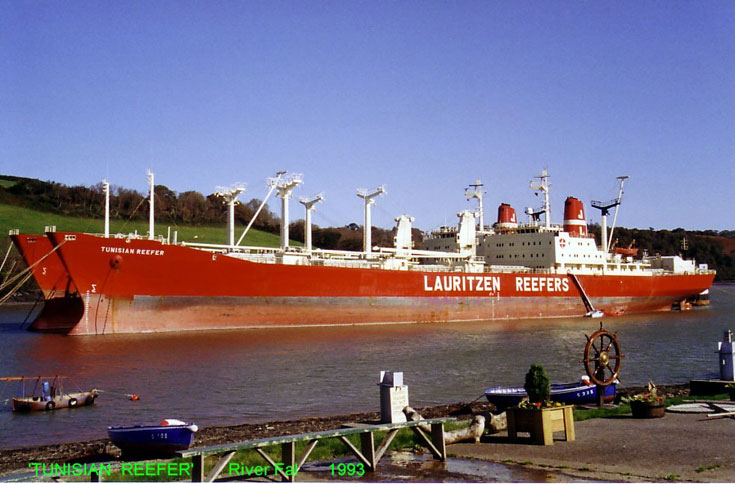 Former refrigerated fruit carrier Argentinean Reefer laid up
in an English River in the 1990's
Over time oranges were imported from Australia, Florida and California, Jamaica, Cyprus and Israel. Bananas were sourced from Fiji, Tonga, Samoa, Niue, Ecuador, and Chile.
Pineapples, limes, coconuts, paw paws and other Pacific Island's crops also arrived via the pacific island services, but were not in the auspices of Fruit Distributors.
Some countries could not supply NZ because of their having fruit fly in their fruit. This was able to be eliminated in oranges because the fruit could be sufficiently refrigerated to exterminate the pest, but bananas could never go below 53 degrees Fahrenheit without chilling them.
Imported fruit was allocated amongst the merchants according to a system similar to the allocation of fruit to the retail trade. The merchant's financial turnover was periodically reviewed and then import shipments would be divided on the basis of the benchmarked turnover figure.
For instance in Christchurch Radley Bros received around 35%, Park Davis 25%, MacFarlane's 25% and Market Gardener's about 15%. The allocations could be and in fact were often determined after arbitration.
Customers of the markets had their portion of imported fruit determined by their spending with individual markets. Depending on ship volumes the amount of fruit allocated would vary each time. But behind this would be a formula dividing the shipment volume in turnover figures. Thus an individual retailer might get one case of bananas for each ₤30 of recent spending.
Imports were always keenly sought after as they were a strong incentive to each retailer' customers.
The merchants also profited hugely from handling imported fruit as even under Fruit Distributors each shipment carried much more than just the sales. There was cartage from arrival point – either ex ship at Lyttleton or else sometimes ex Christchurch rail yards.  Then there were storage fees, and in the case of bananas lucrative ripening fees. Each market had its own specialised ripening rooms.