Early banana supplies to New Zealand came exclusively from the Pacific Islands, especially Fiji, Western Samoa and the Cook Islands. They were brought in by private arrangements between firms here – such as E Turner & Sons (and later Turners & Growers) and AB Donald – and local growers.
But with the election of the Labour Government under Michael Joseph Savage in 1936, moves began to bring all fruit imports totally under the control of the government.
By March 1938, the Internal Marketing Division (nicknamed the Infernal Marketing Division by many in the trade.) had dictated prices for fruit, irrespective of whether there were shortages or gluts, and had placed itself in a monopoly position regarding the importing of bananas and citrus. It also took control of the export of apples and pears, and of the marketing of NZ lemons.
For the market companies it was a disaster: Turners & Growers, for instance, saw their turnover drop 19% between 1938 and 1939 alone.
And for the retailers it was a disaster in terms of being able to provide customers with basic supplies. Those were the days of signs in shop windows reading: 'Sorry, no bananas, no oranges.'
The government appointed an agent in Auckland whose job it was to allocate what bananas there were to the market companies. According to one source, the system made it inevitable that some individuals would resort to desperate measures – backhanders and bribes and bottles of whisky – to try and secure for themselves some extra fruit.
That system limped along for 12 years, losing millions of pounds of both taxpayers, and the industry's money.
With the election of a National government in 1949, and the diminution of the government's role in marketing, the government approved the foundation of a fruit importing company exclusive to the NZ fruit merchants.
It was a government-controlled monopoly, and it was given sole rights to import bananas, citrus and pineapples into New Zealand. Its character required it to encourage fruit industries in the countries of supply, and to supply the fruit regularly and at controlled prices – that is, not auctioned but at fixed prices, the same throughout New Zealand.
What this meant for retailers was that the markets held all bananas, and retailers were allocated bananas according to how much money they spent on other goods at the market.
This was a great way of generally controlling both growers and retailers: retailers were hardly likely to independently look for cheaper supplies of other produce from growers themselves as it would cut down the amount they spent at the market and therefore cut down on their banana entitlement. They couldn't afford to bypass the markets.
But from the markets point of view there had always been problems with Pacific Island bananas. Over the years several crops were lost due to disease; there were ongoing problems with quality control; some shipments arrived so rotten that all the insurance agents could do was count the stalk as they pulled them out of the hold; and the industry was so de-centralised that, for instance, Turners & Growers auctioneer John Watson remembers overseeing a 12,000 – case shipment of bananas from Apia which came from the plantations of 3000 different growers.
So although by 1960 Pacific Island banana production had risen to over I million cases a year, by 1975 they were producing only 221,000 cases.
By the late 1950s Fruit Distributors had started getting its bananas from Ecuador, and although they also imported from Costa Rica, Panama, Honduras, Guatemala, the Philipines and occasionally Australia, Ecuador and the Bonita Company – one of the world's two largest banana companies – gradually became the main supplier.
Says John Watson: "You could say we wanted 100,000 cases this week and you'd know you'd get them. Some people complained they weren't as sweet as the Island bananas, and it was probably true, but they had a far longer shelf life. Island bananas, once ripe, only keep one or two days. Ecuadoreans could keep a week or more.
"And they were much cheaper. They were grown on such a large scale, and their labour is so cheap. There were some moans that bananas were cheaper than local fruit like apples, pears and peaches."
This system lasted 40 years, until in 1990 the Labour government deregulated fruit distribution, giving Chiqita – the world's other major banana company – the chance to come into New Zealand and compete with Fruit Distributors.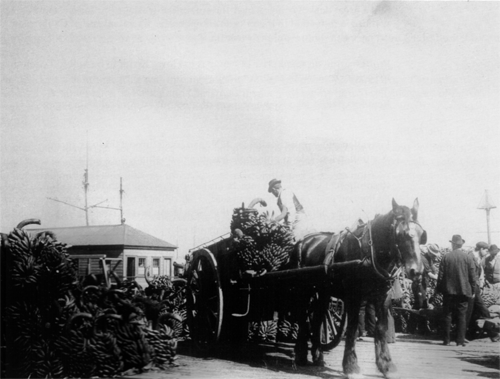 Counting Bananas, Queen St Wharf, 1900
Kind permission of the Librarian Auckland Institute & Museum