Tom Ah Chiee is the guerilla of fruit and vegetable retailing in New Zealand. It was he who, in 1958, opened the first Foodtown – indeed, the first supermarket in New Zealand or Australia – on a site in Otahuhu, thus causing a permanent revolution in the way we do our shopping.
"It's not a big step from running a successful fruit and vege wholesaler to running a supermarket," he says. "I'd seen what was going on in America and saw what was happening: how many people had cars and that if I offered free carparking, then all those cars would belong to my customers.
"We found a site… It was the first Foodtown and we had everyone there, the radio stations, literally thousands of people turned up and things got a little crazy. We ran out of stock by 11.00am, and we had to get on the radio and say, please don't come to Foodtown. We had five checkouts but needed 25 to cope.
"It is possible to trace the inevitable decline of what I would call the boutique shop, usually owner operated, from that time. Today I think their days are numbered. In the future there will be the supermarkets and the mass retailers like the fruit shed or barn operations.
"The people aren't there to run the boutique shops these days and the competition from the larger operators will make it hard for them to survive."
Today Foodtown alone has 23 outlets in Auckland, and an annual national turnover of $700 million, an indication of what small retailers are now up against.
Tom Ah Chee himself remained involved with Foodtown until 1982 when he resigned as chief executive. By that stage it was a public company owned by Progressive Enterprises.
Ah Chees family has retailed fruit and vegetables in Auckland since the days when his grandfather sold produce from baskets in Queen Street in the I870's.
Tom himself says: "I think I was destined to be a retailer. At first I wanted to be an architect, but as it happened there was no alternative but to take over the business. There was the burden of the family and having to ensure they were provided for well. Nowadays young people have a lot more options. But I have no regrets, I am sure fruit retailing is the best training for business and I am sure it is the foundation for my later success."
He began work in his father's (Clement Calliop Ah Chee) Newmarket shop in the late 1930s.
"At the time there were five retailers along Broadway and we were all doing well.
"There were three auction days a week and you had to be there at 7am, figure out what you wanted to buy and physically cart it back.
"There was always some job to do. Caulis and cabbages had to be trimmed and tidied, carrots, potatoes and other root crops had to be washed. We used to do that in the concrete mixer.
"Wednesday evening was always the busiest night because we would redo all the displays for the big trading days at the end of the week. Your display was very important as everything had to look fresh and inviting to draw the customers.
"Thursday night would always be late because of the work needed to get things ready for Friday, which was the big day. We'd do 50% of our weekly turnover as people stocked up for the weekend.
"After Friday we would open again on Saturday morning and then work for three or four hours, packing away the produce, some of it into the cool store, mopping down the floors and cleaning the shop.
"On Sunday it would start again in the afternoon. We'd head there and from about 2pm start getting the produce ready for Monday."
In the 1940s the family began to move away from straight retailing into mass produce retailing.
"The shop on the corner of Great South and St Marks Roads became a site where we sold cases of apples. At the same time there was no export of apples and so in the height of the season there was a lot of fruit which orchardists wanted to sell. We'd sell apples like Granny Smiths for 2/6d for a 40lb case.
"This business went well… Eventually we had two shops at the present site of Kirk Motors in Great South Road, one a normal retailers, the other a wholesaler.
"In the years after the war the wholesaler would concentrate on peaches, potatoes, onions. In those days people would bottle and preserve peaches and other fruit, so we did well."
But in the heavily regulated post-war economy stock could be hard to come by. Peaches, for instance, were regulated by the granting of only a very few licences to truck the produce from Hawkes Bay growers the Auckland markets.
"All the licences seemed to be held by Turners or other market operators who did not want us selling peaches and fruit wholesale."
It wasn't illegal to sell the fruit – just to transport it without a licence. So, Ah Chee had to use illegal truck shipments.
"We would arrange for a truckload of peaches from Hawkes Bay and then wait quite anxiously for it to arrive. We had to advertise and tell people the Golden Queens were coming. We would stay up waiting for it. The truck which would be the responsibility of the orchardists would have to be careful to avoid traffic cops who could stop the produce coming through. We arranged for the truck drivers to call us at specific places along the way so we knew when to expect them. Later, the trucks would also have to watch out for Apple and Pear Board inspectors."
Ah Chee believes the challenges of running a fruitshop provides the foundation for retailing in general.
"There is no other retail business," he says, "where you have to go to auction, decide what to buy then and there and then come back and work out pricing, display and marketing policy – and it's immediate."
"It's a business that changes every day because the produce has to be fresh and no matter how much u plan, the gardeners can't say what way their weather will turn. You can't say on Monday that you're going to push cauliflowers because they may not flush (reach their peak picking time) by Wednesday."
"You have to learn to make quick decisions and if you make the wrong ones you can loose a lot of money."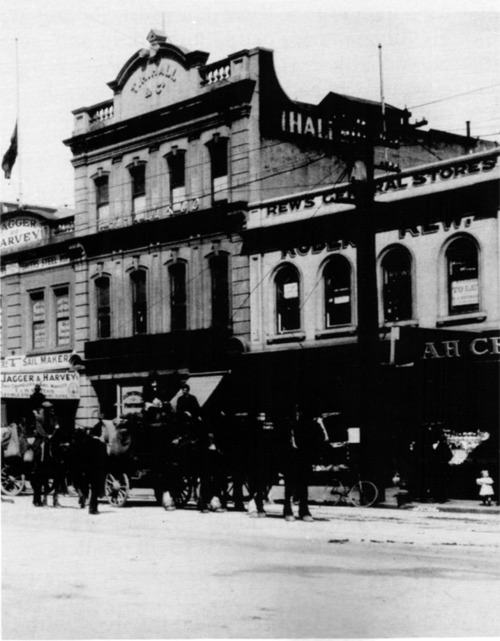 Ah Chee Fruit Shop
Printed with kind permission
from Auckland Public Library