(Reprinted by kind permission of Bob Radley)
Auckland based Harvey Turner who was a pioneer in the prevailing system of New Zealand produce markets became a leader in organising the merchant wholesale companies and defending their role. In the economic climate and political mood of the 1930's the industries free enterprise freedom, especially in their marketing methods and also importing of overseas fruits was looking under threat.
Despite much imported fruit arriving in less than prime condition it was a profitable and keenly contested activity amongst the merchants. Bert Radley used to tell tales of intrigue and of how when he ventured to the North Island by ferry and train, or even moreso, overseas, he would invariably be shadowed by Turners and Growers personnel. At the very least he would receive cheeky telegrams or notes informing him they knew of his activity. There was fierce competition to secure importing agencies or supplies. Through all this, and right until the present, Turners invariably kept the upper hand.
This fierce competition continued throughout Bert Radley's career. Turners and Growers dominated the North Island trade, but Radley's had the upper hand in the South Island. Whereas Turners had equity in many North Island Markets with either total ownership or shared control, Radleys tended to have close alliances rather than equity.
Thus in the North there were enterprises like Turners and Fow,  Turners and Growers – Auckland, Hamilton, Wellington, Whangarei, Palmerston North, Rotorua, Tauranga, Gisborne, Hastings, etc. ..
In the South Radley's had alliances with Morton & Co. – Timaru (Harold Dyne ex Radley's), Vincent and Hinton – Oamaru (Jack Vincent ex Radley's), Bray Frampton – Invercargill (Frampton former Radley associate), Cockerill and Campbell – Gore (close friends of Radley's), McMurtry & Co. – Blenheim (close friend of Radley's), Baillie Neville – Greymouth (close friend of Radley's), Fraser and Co – Dunedin (Tom Fraser close friend of Radley's), Reilly and Co – Dunedin (Bill Reilly close friend of Radley's), and even in the North Island Webster and Co – New Plymouth (Pat Webster close friend of Radley).
Enterprising Harvey Turner together with E. O. Reilly of Reilly's market of Dunedin, were the architects of the New Zealand Fruit and Produce Merchants' and Auctioneers' Federation, which set in place national ethical standards for marketing fresh goods and initiated the publication of a monthly trade journal, Fruit and Produce. Prior to the Federation, cross industry dialogue amongst the merchants had been rather fragmented and often caustic.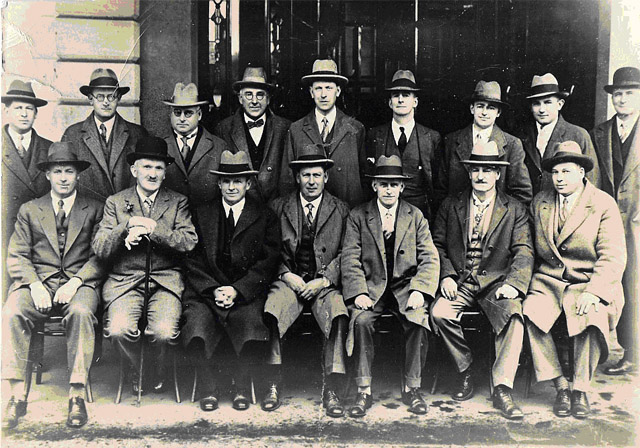 The new NZ Fruit and Produce Merchants Federation 1936
Bert Radley – Top row second from right.
Note the prevailing custom of wearing currently fashionable wide band felt hats.